Did you know…
Fundraising and charitable donations play a vital role in the Centre's ability to provide day to day services.
Everything from the paintings on the wall to the lights and CD players in our therapy rooms have been bought thanks to the generosity of donations.
What many of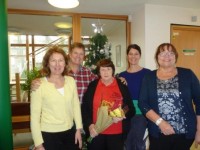 you may not be aware of is that all the therapy sessions are also paid for from fundraising events and donations. This includes all the complementary therapies, group activities and courses.
The Centre has a group of very special people who offer their time and skills on a voluntary basis too. There are Outreach workers, Drivers, Centre Helpers, and the entire team of counsellors.
Our desire to continue providing these valuable services means we are continually raising funds, and our thanks go out to each and every one of you who helps support us, both now and in the future.