UPDATE October 2020
We are now able to accept new referrals for both the Macmillan Wellbeing Centre and the Wellbeing Counselling Service.   Support for Centre clients is currently limited due to Covid 19 guidelines, with less therapeutic groups taking place.  We will resume our full range of services as, and when, it is safe to do so.
OUR BIGGEST EVER RAFFLE RAISED OVER £860!!  Thank you so much to everyone who donated a prize, bo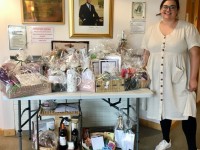 ught a ticket or helped to publicise the event.  Half of the funds raised will stay within our own charity to help support the people of Trafford coping with a cancer diagnosis, half will be sent to Macmillan Cancer Support.