The Role of a Volunteer
Volunteers at the Macmillan Wellbeing Centre are an essential part of the team working alongside paid staff.  They are pivotal in providing a welcoming and friendly atmosphere.  Their role complements the work of the staff and they are supportive to clients and visitors.  The special skills of a volunteer can be utilised to enhance the scope of services that we offer.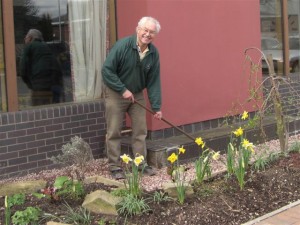 What do Volunteers do at the Macmillan Wellbeing Centre?
There are a wide variety of ways that volunteers can help, including:
Meet and greet on reception – for some patients visiting a new place can be daunting and confusing, therefore a warm and friendly smile and an offer to help can make a huge difference.  Our reception volunteers help the Centre to improve the quality of care offered to patients, by very often being the first point of contact.
Volunteer drivers – the Centre provides volunteer transport to and from the Centre for clients who otherwise would struggle to attend.
Information Outreach Awareness sessions – volunteers assist with awareness sessions and man information stands in various community venues.
Therapeutic groups – volunteers both facilitate and assist with therapeutic groups at the Centre.
Fundraising – volunteers provide invaluable support in organising and assisting at fundraising events.
How much time do Volunteers have to give?
Many of our volunteers have very full and busy lives and still manage to find time to help others!  The amount of time a volunteer can give is their choice and hours are discussed once a person has joined us.
All volunteers' time is valuable and can make such a difference.
Comments from Our Volunteers…
"I have been a volunteer at the Macmillan Wellbeing Centre since its opening in 2000.  Since its early days it has gone from strength to strength.  I work on reception, help with fundraising events and group sessions and I honestly get far more back than what I give.  The centre is full of warmth and friendliness.  We meet so many wonderful people and I feel privileged to be part of the team."  Agnes Webster

"As one of the newly recruited volunteers, I would like to say Thank You to those who have been patiently training me on reception.I retired from the NHS last December and was aware of the wonderful work done by Macmillan, particularly whilst nursing an elderly relative recently.  I felt I wanted to contribute even in a small way. Since arriving, everyone at the Centre has been so friendly and positive, I look forward to "doing my bit!". Hazel Dowell

For further information on volunteering at the Macmillan Wellbeing Centre please contact our Volunteer Coordinator – Denise Freeman, on the main office number.
Counselling Volunteers
Our counselling service also relies on the support of volunteer counsellors. The service is run by two qualified members of staff and the team is made up of students who are in the final stages of their counselling training, studying for a Diploma, MA or MSc. We also welcome qualified Counsellors who wish to return to practice.
Students and counsellors looking for a placement are recruited annually from the end of August and application packs are available by telephoning the Centre on  746 2080.
The closing date for applications this year is Friday 19th October 2018. 
Following shortlisting, interview and mandatory training, volunteers are ready to take clients from around February 2019.
"There is something special about counselling at Macmillan – the Staff. They provide an environment with a unique blend of care, guidance, on-going training and professionalism that enables me to feel fully supported in the role of counsellor."