The Role of a Volunteer
Volunteers at the Macmillan Wellbeing Centre are an essential part of the team working alongside paid staff.  They are pivotal in providing a welcoming and friendly atmosphere.  Their role complements the work of the staff and they are supportive to clients and visitors.  The special skills of a volunteer can be utilised to enhance the scope of services that we offer.
Any vacancies for volunteering will be advertised here on our Website.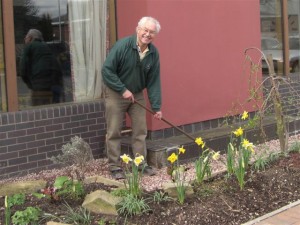 What do Volunteers do at the Macmillan Wellbeing Centre?
There are a wide variety of ways that volunteers can help, including:
Meet and greet on reception – for some patients visiting a new place can be daunting and confusing, therefore a warm and friendly smile and an offer to help can make a huge difference.  Our reception volunteers help the Centre to improve the quality of care offered to patients, by very often being the first point of contact.
Volunteer drivers – the Centre provides volunteer transport to and from the Centre for clients who otherwise would struggle to attend.
Information Outreach Awareness sessions – volunteers assist with awareness sessions and man information stands in various community venues.
Therapeutic groups – volunteers both facilitate and assist with therapeutic groups at the Centre.
Fundraising – volunteers provide invaluable support in organising and assisting at fundraising events.
How much time do Volunteers have to give?
Many of our volunteers have very full and busy lives and still manage to find time to help others!  The amount of time a volunteer can give is their choice and hours are discussed once a person has joined us.
All volunteers' time is valuable and can make such a difference.
Counselling Volunteers
The Wellbeing Counselling Service also relies on the support of volunteer counsellors. The service is run by two qualified members of staff and the team is made up of students who are in the final stages of their counselling training, studying for a Diploma, MA or MSc. We also welcome qualified Counsellors who wish to return to practice.
We recruit volunteer counsellors once a year.  Application packs are now available by telephoning the Macmillan Wellbeing Centre on 0161 7462080.  The closing date for receipt of applications is 12 noon on Wednesday 19th October 2022. Following interview and mandatory training, successful applicants will commence client work around February next year.
"There is something special about counselling at Macmillan – the Staff. They provide an environment with a unique blend of care, guidance, on-going training and professionalism that enables me to feel fully supported in the role of counsellor."