'ONE FOR THE BOYS'
We have recently held a 'men-only' event at the Macmillan Wellbeing Centre – 'One for the Boys'.
We all know that dealing with a diagnosis of a life-limiting illness, and all that follows, can be an overwhelming, frightening, exhausting, and sometimes lonely experience – for the person who is ill and also for those who care about them.  Men often feel they need to be the strong ones and usually keep quiet about how they are really feeling.  Some don't 'do emotions',  and stress can build up – making what they're going through even harder.  Men are 40% more likely to die from cancer than women and 16% more likely to get cancer in the first place – it's time for men to drop the stiff upper lip and start to speak up.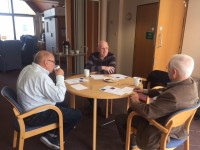 With that in mind, our men-only event was an opportunity for our male clients to mix with other men who are going through similar things – to share experiences, learn from each other, and to feel less alone. The day was a mixture of general fun activities which helped the clients to bond and to relieve stress. There were also some serious conversations within a safe and supportive environment.
Some comments about the day were: "The day was fantastic, excellent!" and, "I found the comfort and companionship of other men in the same situation useful", and, "It was very good and all parts were interesting!"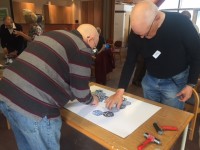 Our first speaker Ian was from State of Mind – an organisation set up to promote awareness of mental health problems experienced by men, and to encourage men to come forward for support when needed: as Ian said, 'If problems are mounting up for you, speak to someone about how you're feeling!'.