Eid, Chanukah, Christmas, and New Year – it has been imprinted on our psyche from a young age that we spend special holidays with family. This has been a year like no other and many of us will be unable to be with our loved ones, either because a loved one has died or Covid restrictions prevent us from meeting up.
We will miss our loved ones even more than usual. Our sense of loss is magnified – the sadness deepens and the sense of loneliness can feel isolating. How can we celebrate togetherness when those we hold so dearly aren't there?  But you can, and will, get through the holidays. It may help to have a few ideas in place – with alternatives at the ready if things get too much for you. You are also allowed to change your mind.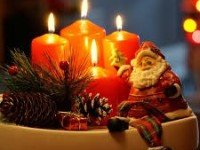 If you truly can't face the holiday, cancel it. Take a year off – it will come round again next year. If you have been going through hard times, just explain you need a break from the festivities. There is no right or wrong way to handle the holidays this year – do what feels right for you. For some people, staying involved with the holidays is a symbol of life continuing. Let the holiday routine give you a framework for how you spend your time.
How ever you spend the special day, it is possible to bring your loved ones into it. Maybe saying a prayer for them, or lighting a candle, looking at photos, or asking your faith leader to include them in a prayer. You may wish to contemplate or share your favourite stories about your loved one. If technology is a way of keeping in touch with family and friends, ask people to help you with this if needed. Plan a time when you will meet up online or by phone. Send a reminder in advance.
Remember:
– DO be gentle, patient and kind with yourself
– DON'T do more than you want to
– DO allow time for feelings – don't keep them bottled up – and then BREATHE
– DO allow others to help you – we all need help at certain times in our lives
Holidays without loved ones are clearly tough events to get through. We may feel sad, but sometimes we may catch ourselves doing okay, and we may even have moments of laughter. And after a while, the holiday will be over.
If you're struggling over Christmas and New Year, there is help available for you:
The Cruse National Helpline will be open as usual over the holiday period, offering a listening ear and emotional support to anyone who has lost someone they love, or been affected by a bereavement. The freephone number is 0808 808 1677.
The Samaritans – Whatever you're going through, you can call them any time, from any phone for free. Call: 116 123.                                                   Sometimes writing down your thoughts and feelings can help you understand them better. Email jo@samaritans.org (Response time:24 hours).
The Silver Line has a free, confidential helpline dedicated to helping older people, who may be feeling isolated, confused, or lonely. It is open 24 hours a day, 365 days a year.     Call 0800 470 8090.